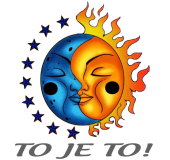 Pozdravljeni, niste še prijavljeni!
Za prijavo kliknite
Prijava
.
Vsebina košarice
Skupaj: 0,00 €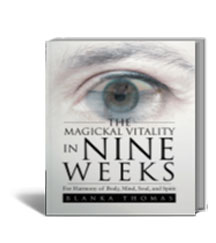 The Magickal Vitality in Nine Weeks
By Blanka Thomas, Hard cover

... Or When The Dreams Come True ...!

The Magickal Vitality in Nine Weeks is the book that will attract in your life abundance, love, respect, friendship, health, wealth, harmony, prosperity, joy, playfulness, freedom, peace, and awareness. The book will wake up your multiple potentials and enhance endurance and courage to let go the past and let go all that which no longer serves your purpose and your highest good and stimulate you to live your mission in the here and now.

The Magickal Vitality in Nine Weeks is a magnificent tool for new beginnings, for launching and letting go of the old, no longer useful, for change and shift of attention, for a quantum leap of consciousness, for awakening from an enchanted dream and the unconscious vicious spell, and for the activation of your dormant DNA and sleeping potentials. It is the key to the door dimension of the heart, and when you unlock them, you find again the lost bond with yourself and with the whole universe.

Become a Physical Arhitect and Spiritual Alchemist of your Life

Cena s popustom:
52,00 €
Redna cena:
59,85 €
Neto:
1 kom
Šifra artikla:
MAGICKAL1
Na zalogi:
DA
Podrobnosti
Blanka Thomas, author of the book, took a first step into the unknown in the year 1999 and transform herself and lost 51 kilograms of excess body weight. After her strong life experience she found the ancient Mayan Zolkin Divine Matrix 20 : 13, calendar and horoscope, and dedicate her life to this ancient wisdom. She published three books in her native language, and after 13 years of researching and observation, here is her fi rst book in English. She is practitioner of Mayan abdominal massage and Spiritual Healing, of classical massage and body work, of Inca Munay Ki and the Shamanic Way of Healing. For the last eight years she teaches, and gives workshops, lectures, courses, and consultations about the Magickal Vitality and the New Reality 2013, and ancient Mayan and Inca knowledge all over her homeland. Her passion and hobbies are writing, traveling all around the world, playing on the ancient sacred instruments, creating sacred ceremonies, researching and teaching about ancient and future knowledge and about the new reality 2013. Her message to You and to the whole world is: Never Give Up five seconds before Miracle happens and the new reality begins!